Toni from Make it Perfect is organising a master list of Auctions and Raffles that will be taking place starting Monday 17 January.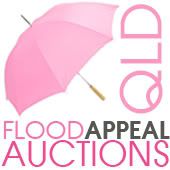 I will be taking part and putting something up for people to purchase raffle tickets for.
It will be a quilt made by me, I will have more information on Monday if you want to come and look.
Postage will be included. All ticket purchases are to be made straight to the relief fund, but I will have links and more information in the next few days.
Please visit Toni's blog on Monday and find something to bid on to help the people in the North.
Spread the word and tell everyone, you will get to bid on some fantastic items as well as donating to a wonderful and worthwhile cause.