RAFFLE IS NOW CLOSED, THANK YOU TO EVERYONE WHO PURCHASED A TICKET.
WINNER TO BE ANNOUNCED IN A COUPLE OF HOURS.
Welcome to my raffle if you are visiting from the
Make it Perfect
blog if not then click on the button below anytime after Sunday and there will be a master list of places you can visit and support the Flood Appeal.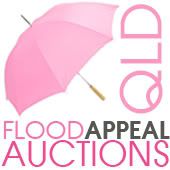 It is now quilted and bound and has finished up a nice lap or baby size quilt at 37" square, I have taken this photo on our clothes line which is in front of our vege garden. The second photo is of the back so you can get a clear picture of the quilting. It's basic straight line quilting, it was "organic" with no lines drawn.
I was going to do an Auction but I want 'Everyone' to have a chance to win it.
So...
I will do a raffle.
For every $2 you donate to the
QLD FLOOD RELIEF
you will get 1 ticket.
For every $5 you will get 3 tickets.
So if you only have $4 then you get 2 tickets
But if you have $10 then you can have 6 tickets and so on.
I haven't been to do a donation to
QLD FLOOD RELIEF
yet as I have been busy sewing so I don't know if the system gives you a receipt you can send to me but it will probably have to be on an honesty system.
If you have a receipt you can feel free to e-mail it to me: beccaj74 (at) yahoo.com.au
If not I will just have to trust that people are going to be honest when they say they have donated to the cause.
It's simple to enter, leave me a comment here telling me how much you have donated and I will work up a spreadsheet in the order the comments are left and then use good old Random.org to generate numbers at the end of the Raffle which will be Monday 24 January 9am Australian Eastern Daylight Savings Time.
I will cover the cost of postage anywhere in the World.
I also just found this cute little workshop that is only $5 to join and all money goes to the flood relief.
Kim Archer Smile Workshop